Piluwa Khola - Nepal Steel Bridge Construction Project
Nepal is well known for its mountainous terrain, and in many areas the only access through the mountains is via primitive mule tracks, which are impassable during the snow melt and rainy season. The only way for the country to move forward and eliminate rural poverty is to build roads, and of course bridges.

As part of the Nepalese Road Network Development Project, Reidsteel have been asked to design, manufacture and erect a steel frame truss bridge, located on the Mudhe to Kandabari road in Sankhuwa Sabha District, crossing the river Piluwa Khola. Currently, the only access across the river is via a pedestrian suspension bridge, meaning no vehicles are able to pass (See original bridge image on the right). The Piluwa Khola Bridge will be a single span, 96m long steel frame truss, with a single lane carriageway of 4.25m, and a 1m walkway on one side adjacent to the carriageway, making its total width 5.95m. Erection of the bridge has now begun, and will be completed in March 2009. This bridge is being built in association with Kalika, a local company from Katmandu.

All steel surfaces have been galvanised to protect from corrosion. It is designed to be earthquake resistant: light, strong, well braced and on flexible footings. There are expansion/shrinkage joints at either end to allow thermal and seismic movement, and the central bracket's web is torsionally flexible and ductile enough to allow the connecting struts to move with the thermal movements of the bridge.

Nepal's underdeveloped infrastructure posed problems in terms of transporting construction materials to the site, particularly as the bridge is wide-span and carries heavy loads. Reidsteel bow-string bridges are shipped as unassembled metal members and crates of small parts and accessories, which can be transported along the narrow paths and assembled on site.

To erect the bridge using a cantilever launch system would require a long, straight run up to the bridge, which is not the case in this mountainous region, and would also put enormous loads onto the river bank seat. Instead, the gap has been filled, and the bridge erected in-situ over a number of temporary steel trestles during the dry season. Reidsteel have to work to a close schedule, to ensure that the bridge will be erected and the infill removed before the rainy season begins.

When the new Reidsteel Bridge is completed, even heavy lorries will be able to cross the river, improving trade and communications in Nepal, and bringing the country one step closer to eliminating poverty.

NOTE the original bridge was not built by Reidsteel.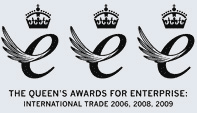 Queens Award for Enterprise International Trade 2006 2008 2009