Decked Relocatable Bridges
Standard Steel Relocatable Deck Truss Bridges
The design of the standard steel deck truss bridge is effective for spans of between 12m to 90M.
There is a frequent need for relocatable bridges. Concrete decking is not relocatable, so on these we use a thick (8mm) anti-skid galvanised steel decking. These deck panels are bolted to joists and are easily replaceable.
The joists span onto transoms which themselves span onto two trusses. These steel deck bridges are open top through trusses (OTTT) up to 30.5m; the longer ones are closed top through trusses (CTTT). The decks are 4.2m or 7.3 m wide between the crash barriers as a standard.
The design is for AASHTO loads HS 25; this is for a 41 ton truck but the safety factor would be sufficient for a truck of double that weight!
The deck bridge can be single span, or multispan on piers. As with our standard highway bridges, the trusses are protected by substantial steel crash rails at different levels (unlike many other emergency type bridges). These crash rails protect the trusses against the truck chassis and the payload higher above the roadway.
All the steel is hot dipped galvanised for long low maintenance life. The truss bridges have a small end to end camber. The design of the decing bridge ensures that all of its component parts are containerised and the bridges can be built in situ or cantilever launched; launch kits are available with a nose, rollers and cable jacks. The standard truss decked bridges have no walkways.
Range of Standard Steel Deck Truss Relocatable Bridges.
| | | | | |
| --- | --- | --- | --- | --- |
| Span | Type | Width | Load | Launch Kit |
| 12.9m | OTTT | 4.2m/7.3m | AASHTO to HS 25 | Type 1 |
| 15.24m | OTTT | 4.2m/7.3m | AASHTO to HS 25 | Type 1 |
| 18.29 | OTTT | 4.2m/7.3m | AASHTO to HS 25 | Type 2 |
| 21.34 | OTTT | 4.2m/7.3m | AASHTO to HS 25 | Type 2 |
| 24.38m | OTTT | 4.2m/7.3m | AASHTO to HS 25 | Type 3 |
| 27.43m | OTTT | 4.2m/7.3m | AASHTO to HS 25 | Type 3 |
| 30.48m | OTTT | 4.2m/7.3m | AASHTO to HS 25 | Type 3 |
| 40.4m/50.4m/60.4m | CTTT | 4.2m/7.3m | AASHTO to HS 25 | Type 4 |
| 70.5m/80.5m/90.5m | CTTT | 4.2m/7.3m | AASHTO to HS 25 | Type 4 |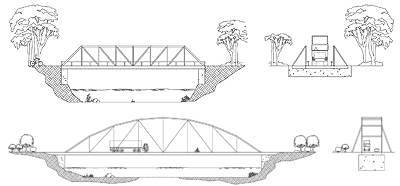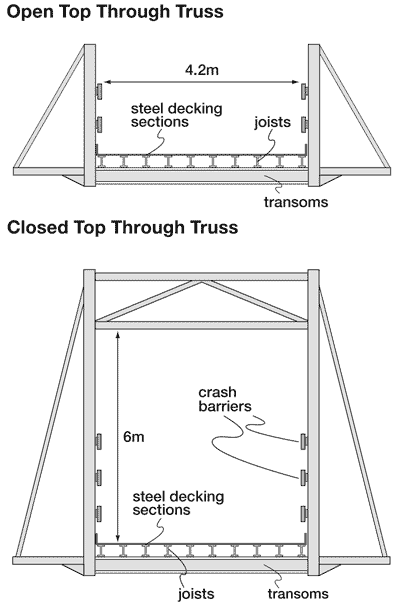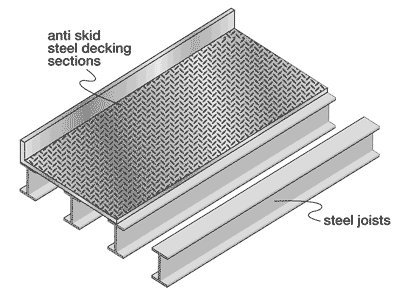 Click to enquire further about our Standard Steel Decked Relocatable Bridges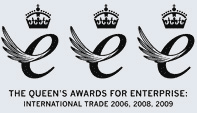 Queens Award for Enterprise International Trade 2006 2008 2009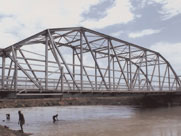 See examples of our work