Construction of Bridges - Bridge Types Explained
Which bridge is right for you?
Bridge Advice
When designing the construction of a new bridge, there are many considerations to be taken into place, but ultimately the span of the area to be bridged is important to ensure the right materials are chosen for the construction.
At REIDsteel we manufacture steel bridges to a number of different styles. Click on the drawings below to read further information on each of the benefits of the different bridge types:
For further information about REIDsteel bridges, please contact us.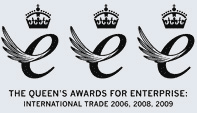 Queens Award for Enterprise International Trade 2006 2008 2009